BS 8102:2009 Code of practice for below ground structures against water from ground
Waterproofing to basement is covered by BS8102:2009 which specifies the 'Grade' and 'Performances Level' for the design of the waterproofing based upon the end use of the basement. See table below.
Example of basement usage
Car park, plant rooms (excluding electrical equipment), workshop
Some seepage and damp areas tolerable, dependent on the intended use might be necessary to deal with seepage.
Plant rooms and workshops requiring a drier environment, storage areas
No water penetrating acceptable, damp areas tolerable, ventilation might be required
Ventilated residential and commercial areas including offices, restaurants, etc.
No water penetrating acceptable, ventilation, dehumidification or air condition necessary, appropriate to the intended use
Damp Proofing Direct carries out basement and cellar tanking throughout London and home counties. As basement waterproofing specialists we can design specify and install all types of basement waterproofing systems. Whether your home is brand new or has been around for generations, one of the most important things is that it is properly waterproofed.
Water damage not only causes countless problems to the structure of the house it can greatly affecting its sell on value. However, dampness can also damage your own personal valuable possessions. It can also damage the paintwork and finishings in your home. For this reason, we suggest that you ensure that your home is properly waterproofed.
Dealing with the consequences of water damage can be extremely costly, especially large issues on your roof, walls or below ground. For this reason, it is vital that you perform regular checks on all areas of your home. Particularly where water may penetrate the property above or below ground level and cause damage, this will stop any potential problems before they escalate.
We work both above and below ground level when it comes to property waterproofing. Our aim is to ensure that your whole home can be waterproofed. For this reason, we ensure that both above and below your home is protected from any damage. We can damp proof your home as well as ensure that your basement is waterproofed with one of our basement waterproofing systems. We are specialists in keeping water out!
Tanking Walls is a simple way to create extra living or storage space in your basement.
Many houses have basements, cellars and vaults that were never designed for modern living. They can suffer from rising damp and penetrating damp and even flooding.
As a result, they are not being used to their full potential. BWD offers a range of basement waterproofing and tanking systems that can transform a damp, dank basement into a dry and habitable living space.
Basement Tanking Solutions
To create a livable space beneath your home we offer both Cementitious Tanking and waterproofing using Cavity Drain Membranes solutions. We will sometimes combine both damp proofing systems to waterproof a basement.
Our surveyor will inspect your basement and discuss your needs. The surveyor will inform you of the options available to transform your damp basement or cellar. A basement waterproofing system will be designed specifically to meet your requirements.
Cementitious tanking utilises a system of cement based waterproof coatings to prevent penetrating damp caused by capillary movement of water moving through earth retaining walls. The tanking coatings can be plastered to provide a smooth surface to decorate.
Cementitious tanking is used in situations where there is no free-flowing water or risk of flooding and in small areas where there is an isolated damp problem.
Benefits of cementitious tanking
Can be used in small areas and on convoluted surfaces.

Does not require a drainage system, sump and pump or a annually servicing.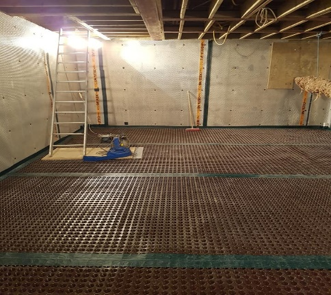 Waterproofing with Cavity Drain Membranes
Cavity Drain Membranes utilise a studded membrane to line the walls and floors to provide a dry internal surface.
The walls can then be dry lined or plastered, and the floors can be screeded or overlaid with chipboard or tongue and groove flooring.
Sealed systems are used in conjunction with drainage or sump and pump where there is active water or flooding.
Ventilated systems are used where there is no visible water and in situations where conventional damp proofing methods are inappropriate.
Benefits of Cavity Drain Membranes
No need to incur expense and mess removing existing sound plaster (soft plaster shall be removed).
Redecoration can normally be carried out quickly as there is no need to wait for system to cure.
Basement Waterproofing Direct based in Hemel Hempstead and operating throughout London and home counties are an approved installed with leading manufactures in our industry including Delta Membrane system and Sovereign chemicals.
Our waterproofing system is covered by 10-year guarantee, for a complete piece of mind for a small fee we offer insurance backed guarantee.
How to waterproof a basement / cellar?
To waterproof your basement with the DELTA system there are two main components.
Cavity drain membranes (dimpled/studded plastic sheets) which wrap the walls and floors to keep your finished wall dry.
Drainage & sump pumps to drain the collected water to an existing drainage system, manhole or soak away.
The cavity drain membranes are fixed to the wall with our various fixing plugs and sealed together with our butyl rubber tapes.